Joomla 3.x. How to enable/disable email, print icons and hits/voting features

 NSHIMIYUMWUNGELI Antoine Marie Zacharie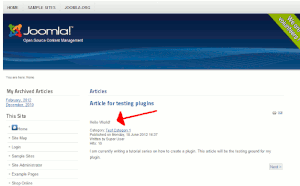 This tutorial shows how to enable/disable the email and print icons as well as hits/voting in Joomla 3.x.
Open the admin section. Go to Content -> Article Manager. Click on Options in order to set Global settings (that will be applied to all articles by default).

Scroll down and you will see Print icon, E-mail icon, Hints and Voting. Select the Show option and save the changes.

Refresh the page. We can see Hints, Vote and E-mail, Print icons.

Let's disable the particular icons in a particular article. Open this article in Article manager. Open the Article Options tab.

By default the Use Global value is set. It means that the settings we have set to all articles will be applied to this article. Select the Show or Hide options in order to show/remove particular items for this article.

Refresh the page. Hints and e-mail icons do not show up in this article.
Pour être informé des derniers articles, inscrivez vous :