Connect Two or More PCs--Anywhere, Anytime

 NSHIMIYUMWUNGELI Antoine Marie Zacharie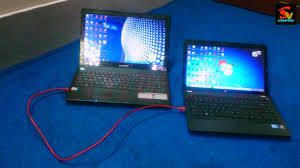 I often find myself needing to connect two PCs when I'm away from my regular office network. Maybe I want to pass files to a friend without searching for a thumb drive. Or if I'm feeling generous, perhaps I want to share an Internet connection in a hotel or airport. Such tasks would be easy if both devices were on the same network already, but in a pinch, you can create an ad hoc connection anywhere. Here are five techniques to share files or an Internet hookup. With little or no preparation, you'll be out of a jam and back to work in minutes.
Note: Ad hoc networks are a useful tool for quick file and Internet sharing, but you should watch for unscrupulous attempts to draw you into such a network unawares.
Ethernet or FireWire
If you want just a temporary arrangement for sharing files between two computers, a direct cable connection can be the fastest method. With this setup, you manually configure the computers' IP addresses, since you have no DHCP (dynamic host configuration protocol) server to create the connection automatically.
This technique uses an ethernet or FireWire (IEEE 1394) cable. The benefit of choosing this method over a Bluetooth or Wi-Fi connection is that it allows fast transfers of big files. But both cables have limitations. FireWire connections work only on Windows XP, not Vista. (You can use FireWire to network an XP machine and a Mac, however.) And ethernet requires a crossover cable or another piece of hardware, either a hub or a switch. The crossover cable will likely be labeled as such; otherwise, most ethernet uses straight patch cables. (Look for "patch" or "crossover" on the cord.) I like to have a short FireWire or crossover cable on hand, even when I'm traveling; it has saved my bacon on a few occasions.
Once you have connected the cable between the two PCs, here's how to start sharing.
Open the Network Connections Control Panel. Right-click your connection, such as Local Area Connection, and click Properties. Select TCP/IP, and choose Properties. Click Use the following IP address and enter 192.168.0.1 as the IP address and 255.255.255.0 as the subnet mask. Leave the other details blank and click OK. Close the dialog boxes until you return to the Network Connections Control Panel. Repeat the process on the second PC, but set its IP address as 192.168.0.2. You've just created a network of two computers.
Pour être informé des derniers articles, inscrivez vous :